When Kendall Fitzgerald coasted through the finish line to win the NCAA Division II East Regional by 10 seconds last weekend, she barely had a moment to catch her breath, let alone collect her trophy. 
In under three hours, she needed to travel from Bethpage, New York, to Shelton, Connecticut—a two-hour drive—to trade her spikes for skates ahead of her second game in Post University's series against Anna Maria College. Less than 24 hours before her regional cross country victory, Fitzgerald, Post's team captain and leading scorer this season, notched an unassisted goal in the second period to help the Eagles route the Amcats, 3-0, in Marlborough, Massachusetts.
So when the announcers called out her name at Bethpage State Park Polo Field on Saturday and invited her to take the stage for her award, they were initially met with awkward silence. 
"I had to go tell the announcers, 'Hey, she's not being rude, she's not blowing off the ceremony, she actually has to leave to play a hockey game,'" Post interim cross country head coach Gregg Schmidt said. "So I told them that and they made that announcement: 'Just so you know, Kendall Fitzgerald had to leave.' And just hearing the crowd go collectively, 'What? What are they talking about?' It was a really funny moment, hearing people murmuring, 'Are you serious?'"
It didn't matter much to Fitzgerald, who her coaches describe as the epitome of a team player. After winning her 6K and leaving the course in New York at 2:15 p.m., she was on the ice in Connecticut by 4 p.m. to help lift the Eagles to another win.
Shout out to Kendall Fitzgerald of @GoPostEagles, who is @Post_WIH's leading scorer. She scored a goal last night in the hockey team's win over Anna Maria. Then, turned around and WON the NCAA East Regional cross country meet this afternoon.

That's pretty dang cool.

— Matthew Janik (@JanikFPU) November 17, 2018
"The most physically demanding week so far would have to be this past week," Fitzgerald said. "We had a full week of hockey practices and lifting sessions, then we played Friday night and Saturday night with the regional cross country race being right in between the two hockey games. We were on the ice again Monday morning, and then had another game Tuesday night. We played three games in five days, and then I had the race, so this past week was the most demanding."
By now, the Post junior is used to the drill. But she didn't arrive in Waterbury, Connecticut, with intentions to compete on three teams—ice hockey, cross country, and track and field—throughout the academic year. 
The Kamloops, British Columbia, native committed to Post in 2016 with a singular athletic ambition: join the inaugural women's ice hockey team. 
Oh, and enroll in a competitive biology program, in which she currently boasts a 3.98 GPA.
"She's a leader in every sense, whether it's hockey or school or cross country. She just wants everyone to be successful, no matter if it's sports or life or education," Post ice hockey head coach Heath Isaacson said. "She's engaged in everything. She's also a peer educator for the school, so she has tutoring hours. She does extra workouts with teammates. The rest of the time, she's pretty much studying for her biology major. I think being a multi-sport athlete makes you have to put your priorities in check and the time-management aspect of being that busy. So for us, it's easy to coach her because of the personality she has."
Getting the women's program up and running proved challenging, at first. Where most teams get to carefully manicure a 20-woman roster comprised of 18 skaters and two goalies, Post only fielded 16 recruits in its first season—and then half of them didn't pan out due to NCAA eligibility issues. 
"The hardest part was my first year at Post… there were times when instead of a typical 45-second shift, Kendall did shifts that were actually seven or eight minutes long," Schmidt recalled.
Thankfully, Fitzgerald stepped on campus with a particular set of cardiovascular skills to help shoulder the load of all that extra ice time. A multi-sport athlete in high school, Fitzgerald dabbled in cross country and track and field until the tenth grade, when she shifted her focus to hockey.
"She's just an athlete; she just enjoys working out, wanting to be the best," Isaacson said. "For her, it's wanting to be the best hockey player. She's fortunate where she's good at running. I think if it was something she trained for year-round, she could probably be one of the best in the country. Fortunately for me, hockey is her true love, and she puts most of her focus into that. But yeah, I mean, we'll get done with a game on a Friday or Saturday, and she's asking me if the weight room's going to be open on Sunday."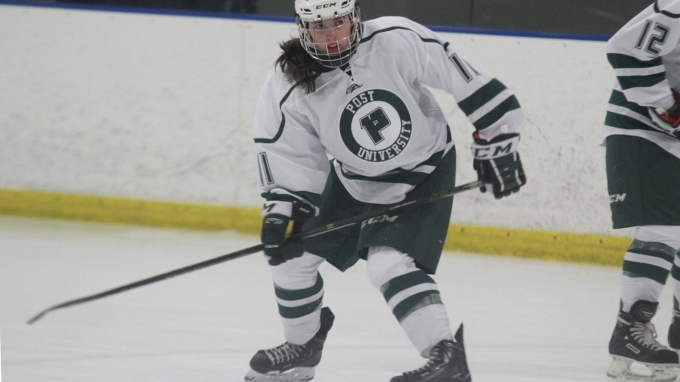 That initiative didn't go unnoticed. Schmidt, who currently serves as the interim head coach for the cross country and track and field teams while continuing in his primary role as Post's strength and conditioning coach, remembers first hearing about Fitzgerald from Post's former full-time head coach.
"He was expecting a six-foot-two, solid, defense type, and goes in the weight room and sees this girl just working like a fiend doing the Bosu ball and dumbbell presses and things like that, and he's talking to her about distance running, but she keeps interrupting him to say, 'Sorry, I gotta get my next set in.' He looked up her marks from Kamloops, and they were legitimate marks. I mean, she was a pretty solid athlete, and she actually beat some pretty well-known Canadian athletes in her time when she was in high school."
Later that fall, Fitzgerald made her collegiate debut, and her first appearance on a course in years, at the 2016 Philadelphia Metropolitan Cross Country Invitational. 
"I went and met the two of them in Philadelphia for her first meet," Schmidt said, "and we told her, mostly just joking around, 'Hey, why don't you just go win this meet?' And sure enough, she went out and won it."
After that, the coaches knew they had to arrive at a consensus about the multi-talented freshman's priorities. Fortunately, Schmidt bridged the gap and forged trust in his unique role as both the interim cross country and track and field head coach and the strength and conditioning coach for the entire athletic department—hockey included.
"I think part of the reason that her and I get along is I'm the strength and conditioning coach, but I'm also interim track and field. And the strength and conditioning is something I'm really good at and I like doing, but I'm passionate about cross country and track and field," Schmidt said. "It's similar to her with running—she's passionate and loves ice hockey, but she's also exceptional at running. So we understand each other that way, and it builds trust with her and Heath because I'm never going to ask her to do something that would sacrifice her as a hockey player." 
As part of that agreement, Fitzgerald's training regimen and competitive schedule revolve around hockey, while cross country and track and field occupy are secondary. She practices with the hockey team Monday through Thursday, then lifts in the afternoon on Monday and Wednesday. Where she finds time, she completes one to two running workouts per week while she's in season, and then competes either on the course or on the ice—or both—during the weekend.
"It's what makes her accomplishments that much more impressive," Isaacson said. "We had it worked out with the cross country coaches that basically, if we had games, she would play hockey because she came to Post to be a student-athlete for hockey. So the agreement was always that, unless it was conference, regionals or nationals, hockey took priority."
She's a very team-oriented player, and she's a competitor. So even if running isn't her main love and her main passion, when she gets out there to race, it switches on."
Fortunately, Schmidt, Isaacson and Fitzgerald all believe her unconventional cross-training is complementary and beneficial for both her hockey and cross country pursuits. 
"Hockey and running aren't typically seen as complementary sports, but I certainly think the strength that hockey requires definitely helps with running," Fitzgerald said. "Running also helps with hockey in that it really helps my endurance and mental toughness."
While Fitzgerald knows how to channel the training she receives into constructive attributes in both sports, it's Schmidt's job to balance her strength and conditioning activity.
"I focus on the hockey side of things when it comes to her training, but it's actually more similar than you'd think—especially with how coaching distance runners in strength conditioning has evolved," Schmidt said. "A hockey player, they're gonna do 45-second shifts, then they're gonna have a rest, and they're gonna come back for more 45-second shifts. So it's very aerobic—it's probably closer to a mid-distance runner and how they're trained, but it's not all too far off. It's just seeing what they're doing for their games and their practices and adjusting from there."
And now, with the NCAA Division II National Cross Country Championships right around the corner, Fitzgerald is well-positioned to record Post's highest individual finish, a record she currently holds with her 91st-place showing last year—but Schmidt believes she has a lot more untapped potential.
"At the conference meet, she won by a full minute. Last year during track, she was a leader in the 5K by two full minutes in her conference. When she actually races, I'm excited to see what she can do. Her 6K PR is a 22:10, but I know she's much, much more talented than that. I think she can be top-20, and could she be even better than that? Definitely, and it's gonna be exciting to find out."
With a break in her hockey schedule from November 20 through January 5, Fitzgerald should benefit from far more recovery time and fine-tuned training than usual leading up to her appearance on the championship starting line on December 1. 
But no matter what happens on the course in Pittsburgh next Saturday, you can bet she won't be thinking about individual glory. 
"Oh man, she's just the most down to earth person. She wins all these awards for cross country, she'll win player of the week for hockey, and you would never know it," Isaacson said. "She's not out there promoting herself. She's very humble, almost embarrassed, when she wins an award. She definitely doesn't like the attention of it, so it's going be interesting to see how she responds." 
Take it from Fitzgerald herself: 
"My goal for Nationals is to go out and put my best foot forward and represent Post as well as I am able. There is such a strong field of runners at Nationals; I hope I am able to get off to a good start and run the best race that I can."